About us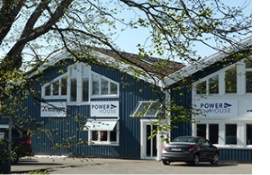 Power House has its base in Gothenburg, Sweden and officially represents AB Volvo Penta Sweden and Mitsubishi's products by MTEE B.V. Our customers are OEM-builders, shipyards and ship owners.
We offer both marine and industrial power solutions; click here to view our product range, which is distributed and supported through a global distribution network.
We provide strong pre-sales, sales and technical support, both directly to commercial users and to our suppliers' dedicated dealer network with the ability to add global local support, commissioning and warranty services.


Our Quality Policy
General
POWER HOUSE is a global distributor of Marine and industrial engines and generating sets. POWER HOUSE has no production facilities of its own, all products are manufactured, assembled and tested by the MHI (Mitsubishi Heavy Industries) organisation in Japan, at MEE in The Netherlands and with Volvo Penta in Sweden.
POWER HOUSE shall strive for highest possible quality in everything we do. A deciding factor for the Company and its future is how our customers perceive our products and services in relation to their demands and expectations. It is therefore very important for us to maintain and strengthen the perception of POWER HOUSE as a reliable, competent and quality oriented partner and supplier.
The organization shall be characterized by:
- High competence and knowledge
- Long term customer relations
- Speed and flexibility
- Motivated people
- Open and straight communication
- Continuous improvements
Customer relations
Our ambition is that our customers shall perceive POWER HOUSE as the best supplier in the market and therefore in purchase situation always be the first choice.
Areas of priority:
- Understanding of the customer's needs and demands
- Delivery precision
- Technical competence
- Response time - availability
Products
Our goal is that the customer shall always feel that he/she has done the best choice by purchasing a product from POWER HOUSE.The products shall be characterized by:
- Reliability
- Low operation costs
- Availability of service and spare parts
- Durability
- Environmental efficient
Way of working:
The quality work shall be mainly within the following prioritized areas:
- To develop working methods with continuous improvements and to develop a personal quality thinking by all employees concerned.
- Continuously develop co-operation between POWER HOUSE and its Dealers in order to obtain best possible profitability for all parties.
- Put high demands on suppliers and associated partners and select the ones that keeps a high quality standard and fulfills these demands.
- Continuously improve our technical competence in order to better understand the needs and demands from the customers.
Our Environmental Policy
To seek sustainable development in our external environment is for us an indisputable responsibility. As a supplier of marine and industrial engines and systems, we are well aware of the environmental impact arising from the manufacture, transport and use. We strive to control activities so that the loads are constantly decreasing. This is done by having identified the environmental aspects we can influence in our own operations as well as to contribute to that the marine products constantly evolve to become less and less environmentally damaging. Based on this, we have created an environmental program with clearly identified objectives aimed at a reduced environmental impact. The environmental program also identifies procedures to ensure that we are aware of and comply with the laws and requirements that govern our business.
To ensure that environmental program is being revised and is achieved, we have chosen to let a 3rd party classification society, Bureau Veritas, certify us to environmental standard ISO 14001.