Spare parts & exchange products
We supply only original parts and we allow full refund on non-used articles.
Mitsubishi:
From our warehouse located in Gothenburg, Sweden, we supply Mitsubishi spare parts worldwide. These include complete short block engines at major break-downs and a complete range of exchange components as listed below.
All that at very competitive prices and with a sophisticated logistics solution - mainly by express services like DHL, TNT, FedEx, but you may also contract your own forwarder to arrange a pick-up at your location.
Volvo Penta:
Please refer to your closest authorized Volvo Penta Dealer or to the Volvo Penta homepage.
Alternatively, you may also use Marine Parts Europe.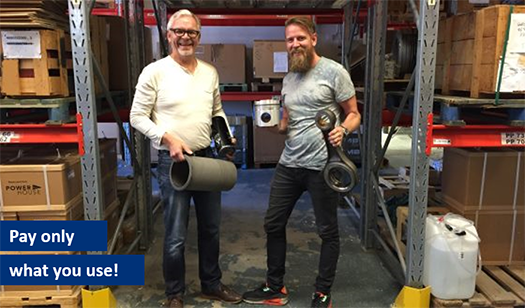 Terms and Conditions

Any questions or inquiries? Don't hesitate to get in touch! Contact our Spare Part Managers anytime at parts@powerhouse.se.
Login to Spare Parts Homepage (for existing users only)

| Image | Type | Model/Type | Description | Price | Document |
| --- | --- | --- | --- | --- | --- |
| | Water Pump | Mitsubishi S6R-, S6R2-MPTA Volvo Penta D25-, D30-MS | | 1640,00 € | |
| | Water Pump | Mitsubishi S6R-, S6R2-MPTK Volvo Penta D25-, D30-MT | | 1640,00 € | |
| | Water Pump | Mitsubishi S12A2 Volvo Penta D34 | | 1928,00 € | |
| | Water Pump | Mitsubishi S12R Volvo Penta D49 | | 2355,00 € | |
| | Water Pump | Mitsubishi S16R Volvo Penta D65 | | 2355,00 € | |
| | Injection Pump | Mitsubishi S6R, S6R2 Volvo Penta D25, D30 | | 10721,00 € | |
| | Injection Pump | Mitsubishi S12A2 Volvo Penta D34 | | 7223,00 € | |
| | Injection Pump | Mitsubishi S12R Volvo Penta D49 | | 10721,00 € | |
| | Injection Pump | Mitsubishi S16R Volvo Penta D65 | | 13216,00 € | |
| | Turbo Charger | Mitsubishi S12A2, S16R Volvo Penta D34, D65 | TD 10 | 1664,00 € | |
| | Turbo Charger | Mitsubishi S6R, S6R2, S12A2, S12R, S16R Volvo PentaD25, D30, D34, D49, D65 | TD13 | 1627,00 € | |
| | Turbo Charger | Mitsubishi S6R, S6R2, S12R Volvo Penta D25, D30, D49 | TD15 | 1972,00 € | |
| | Cylinder Head | Mitsubishi S6N, S12N, S16N | | 1720,00 € | |
| | Cylinder Head | Mitsubishi S6A2, S12A2 Volvo Penta D34 | | 1540,00 € | |
| | Cylinder Head | Mitsubishi S6R, S6R2, S12R, S16R Volvo Penta D25, D30, D49, D65 | | 1522,00 € | |
| | Cylinder Head | Mitsubishi S12R-Z3 | | 1879,00 € | |