LNG Marine auxiliary solutions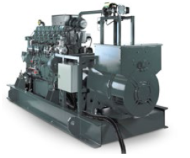 We have extended our product portfolio and are now also offering liquidated natural gas solutions by Mitsubishi for the marine market! LNG solutions are available for gas-electric propulsion and marine auxiliary applications, including tug boats, ferries, coasters, offshore supply vessels and LNG carriers.
The high-performance natural gas marine engines are available in 6, 12 and 16 cylinders & with an output range from 300 kW to 1500 kW. All engines can be delivered with various classifications (Bureau Veritas, DNV-GL).
They are thus well-suited for the upcoming demands in complete LNG shipping solutions!
Advantages
- High thermal efficiency
- Highly efficient turbocharger
- Drastic reduction of exhaust gas emissions, CO2, NOx, SOx and particles
- Ultra lean burn gas-to-air ratio
References
Mitsubishi marine gas engines are well-proven after many years in operation on the Norwegian market. They power the world's first LNG-fuelled RoRo passenger ferry, Norway's 94m Glutra; further deliveries include the Moldefjord and Tidekongen.
More Information
Interested? Have a look at the product leaflet and a (preliminary) technical overview. Contact us for any questions!